World MS Day is May 29: What's Your Motto?
Before the Internet, having Multiple Sclerosis meant launching your own private awareness campaign to educate others about MS.
Why are you always tired?  Why do you walk like you're drunk?  Why can't you work full-time?  Why do you have trouble with your memory? 
Enter the Internet; a place where information is disseminated within seconds, and people can communicate with each other from across the globe.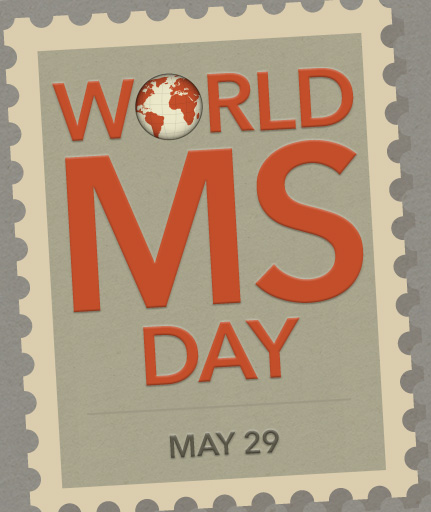 These days, MS awareness is spread throughout social media, health-related websites, blogs and video channels.  People all over the world receive the latest news and information affecting people with Multiple Sclerosis within seconds.  MS awareness is now available 24/7.
This month, an exciting venture from the Multiple Sclerosis International Federation (MSIF) is taking place.  In 2009, MSIF established "World MS Day", an awareness raising campaign that provides the public with information about MS.  This year, the theme for World MS Day has patients sharing their "motto" of what MS means to them.
The campaign has taken a step further by providing us with mottos from 6 young people diagnosed with MS at an early age.  Their bravery and courage while facing their diagnosis is both uplifting and inspiring.  Take a look at what they have to say.  I dare you not to be inspired!
I had the good fortune to become acquainted with Ayesha Ali, Campaigns Manager for Multiple Sclerosis International Federation.  She was kind enough to answer a few questions about World MS Day.  Here is our interview:
Cathy: What is World MS Day about?  
Ayesha: World MS Day (WMSD) has been established by the Multiple Sclerosis International Federation (MSIF), and its member MS societies, for any individual, group or organization to work together to raise awareness of MS.
World MS Day is the only global awareness raising campaign for MS. Every year the MS movement comes together to provide the public with information about MS and to raise awareness of how it affects the lives of more than 2 million people around the world.
Since its inception in 2009, World MS Day has grown from strength to strength, reaching hundreds of thousands of people in more than 67 countries worldwide, continuing to grow every year.
Last year, we saw the success of the '1000 Faces of MS' campaign with extremely positive results.
Cathy: How will the campaign unfold as we get closer to May 29 (WMSD)?
Ayesha: The Campaign was launched on May 8th. On May 8, 15 and 22 we released 6 mottos from 6 young people with MS. They each shared a motto for identity, relationships and the future. Each motto is set to a tailor made image which brings the words and feelings to life. We have been encouraging wide circulation across Facebook, Twitter and Pinterest, with many other MS organizations doing the same.
On the World MS Day website, more than 2000 people have shared their mottos with us in the hope of inspiring others and raising awareness.
Cathy: How many people have become involved in World MS around the world?
Ayesha: More than 70 MS organizations around the world have reached thousands of people worldwide through activities on the ground and media work.  More than 30,000 people receive our emails and more than 61,000 people are on Facebook and over 3000 people on Twitter.
Cathy: How many people work on World MS (including your organization and other organizations)?
Ayesha: There are more than 70 organizations that we know about!
Cathy: Do you raise money for MS?
Ayesha: MSIF raises money for a number of projects across four broad program areas: Capacity Building, Communications, Research and Advocacy and Campaigns. The money raised through World MS Day goes towards these projects, each coordinated on a global level with MS organizations that take part in our effort.
Cathy: How did the idea for mottos come about?  How do you publicize the mottos that people have submitted?
Ayesha: We work with a fantastic creative agency, We Love Digital, who came up with the creative ideas for us. We had a theme and some core messages that we wanted to promote as well as our target audiences that included the public and people with MS.
The mottos people create will be used to create a special feature on the website on WMSD (you will have to visit on May 29 to see what this is!) They will also be promoted in the week following World MS Day in social media, and on a special poster that will be sent to all of our WMSD contacts around the world to use at their events.
Cathy: How did you choose the 6 young people who will be profiled?
Ayesha: We developed a questionnaire related to the themes of the campaign, identity, relationships and the future.  These were sent to ten member MS Societies from a representative sample of MS organizations around the world. These societies selected up to 5 young people to complete the questionnaire, and sent them back to us. Those with the answers and mottos that were best suited to the campaign were selected.
We had originally planned to select only 5 young people but we had so many fantastic stories to choose from that we added a 6th person to the mix.
Do what you can to spread MS awareness by making your own motto.  Share this article.  Share your motto on Facebook, Twitter, Pinterest or Instagram.
______________________________
Do your part so no one will ever have to ask, "What is MS?"
Tell the world about World MS Day!
This article represents the opinions, thoughts, and experiences of the author; none of this content has been paid for by any advertiser. The MultipleSclerosis.net team does not recommend or endorse any products or treatments discussed herein. Learn more about how we maintain editorial integrity
here
.

Community Poll
For trips, which means of travel do you prefer and why?