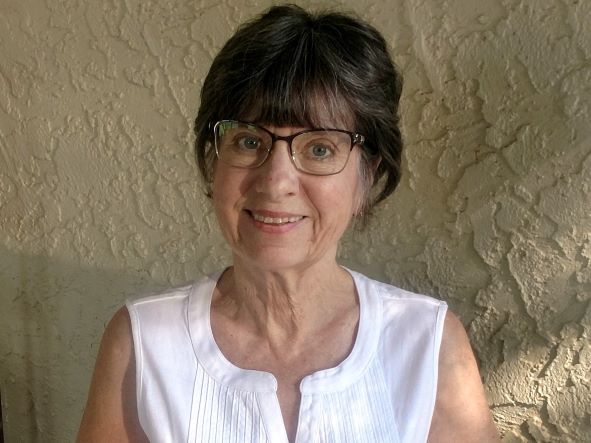 At the age of 25, Debbie Petrina's life with MS began in 1980 that she dubs the "MS Dark Ages". Like others with MS, she "looks so good" despite the antagonistic invisible symptoms that endure. She chose to live predominately in a wheelchair since the late 90's, but as she puts it, she has "a mouth and a brain" to do whatever she wants. Common sense prevails in her decisions.
The journey was long, but life was full despite the challenges of MS and other things life has thrown her way. From the beginning, Debbie has followed a balanced approach of health/wellness and medications. Her ability to effectively manage her MS enables her to maintain independence. An avid reader, volunteer, and swimmer, Debbie currently resides in Glendale, AZ with her husband, Dennis.
Debbie's nature is to help and inspire others. In the MS arena, she provides information with a dual purpose—to reduce the fear of living with MS and simplify the complexity of it. A primary mission in Debbie's life has been to educate anyone dealing with MS, including strangers. When folks cautiously inquire why she uses a scooter, she answers "Multiple Sclerosis" with a smile, followed by the question in a pleasant tone, "Are you familiar with MS?"
Throughout 30+ years of her life, Debbie has spoken to thousands of persons affected by MS—in social media, as a trained peer counselor, and as a participant in numerous events for the NMSS, MS community and other institutions. She earned her B.S. in B.A. degree ('76) from Duquesne University, Pittsburgh, PA. Skills used from her early banking career in finance/research, sales and management have been invaluable as she engaged herself with MS and its community.
Debbie just released the 2nd edition of her hands-on guidebook, Managing MS – A Roadmap to Navigate MS. She has maintained her website as a diverse resource since 2012 that also links to her blog articles "Straight Talk".
She invites you to check it out. www.DebbieMS.com
Click here to see all of Debbie's articles on AdvancedOvarianCancer.net.