Donna Steigleder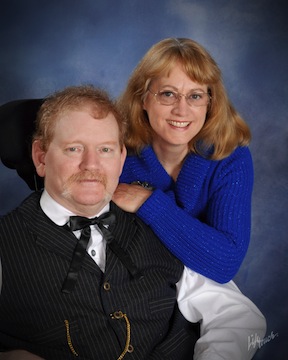 In 1997, Donna and Lynn Steigleder united their two families in marriage. As they worked to blend their two families, both had very active, busy lifestyles. When they got married, Donna had a daughter, age 13 and a son, age 10. Lynn had a son age 10. Lynn exercised religiously, sang in the church choir, initially played guitar in the praise band and then taught himself to play drums. Donna also sang in the choir and participated in the drama team. Lynn worked full time as a fabrication supervisor constructing displays for a pharmaceutical company. Donna worked full time as the Employee Relations Director in Human Resources at a large area healthcare center. In those days, Lynn had no symptoms at all of the dreaded disease….or at least that's what they thought.
Within the next five years, Lynn had persistent signs that something was wrong. Having been trained as a nurse, Donna knew in her heart that Lynn had MS. His father had died from complications of MS when he was in his forties. Knowing what could lie ahead, he stubbornly refused to consider that he might have MS for several years until at Donna's insistence, he finally saw a neurologist in 2006 who confirmed that he did indeed have MS.
So, began Donna's role as an MS Caregiver.
In the fall of 2009, Lynn was hospitalized due to a misdiagnosed bladder infection. Having felt bad for some time, he lost his appetite due to depression and refused to eat. During the first days of the hospital stay, a nasogastric tube was inserted and he aspirated leading to pneumonia and an intensive care stay. During 2010, he was hospitalized two more times. During that 12-month period, he spent a total of three months in the hospital. Donna stayed by his side the entire time, only going home once to take a mental health break of a few hours. After his discharge, the de-conditioning that occurred due to being in the bed for so long resulted in the loss of a significant amount of his independence.
Three years later, Lynn is still struggling to regain what he lost in 2010. Lynn requires complete assistance with all activities of daily living. He is unable to move his extremities more than a few inches except that he can use his left hand and arm. However, that does not keep him from working in a different manner. Since he could no longer work as a carpenter or builder, he decided to try writing. With Donna's assistance, he was successful in publishing his first book, Rising Tide, in 2009. He continues to write daily, using Dragon software to do his typing for him and Donna provides the editing and other assistance he may need.
Donna is very fortunate to work in a position and for a company that allows teleworking. She now balances her time between her full-time job and caring for Lynn 24/7. She is the sole person responsible for the house, meals, addressing problems, transportation, researching concerns, and whatever else they need. All three of their children are now grown and married, each living within 30 miles of Donna and Lynn so they can help out when possible. They now have one grandchild, a delightful little boy who brings joy to them by the mere mention of his name. In addition to the above activities, Donna started a blog in 2010 devoted to sharing her experiences as an MS caregiver. Her blog, MS Caregiver Sharing describes the challenges and triumphs associated with the life of a caregiver.
Click here to read all of Donna's articles on MultipleSclerosis.net.