Marc Stecker - Wheelchair Kamikaze
Last updated: November 2020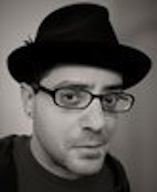 Marc was previously an advocate for MultipleSclerosis.net.
I'm Marc, a 50-year-old male, living in New York City with my lovely and wonderful wife Karen. Diagnosed with Primary Progressive Multiple Sclerosis in March of 2003, I now require a wheelchair to get around the city. I like to drive the wheelchair at full speed, thus the moniker "Wheelchair Kamikaze".
Before getting sick, I was the Director of DVD Production for one of the major international music companies. Yes, I was once a member of the Evil Empire... Prior to my enlistment in the Evil Empire, I worked as a video producer and editor.
I grew up in New York City, and spent the 1980s in Boston (college and postcollege rock 'n roll craziness). During the 1990s, I lived in South Florida, until I woke up one morning and realized I was living in South Florida, came to my senses, and moved back to New York. I hope you like my work...
Click here to read all of Marc's articles on MultipleSclerosis.net.
Special note: The posts originally appeared on Marc's personal blog, WheelchairKamikaze.com. They are being published on MulitpleSclerosis.net with permission from the author.