Nicole Lemelle
Last updated: November 2020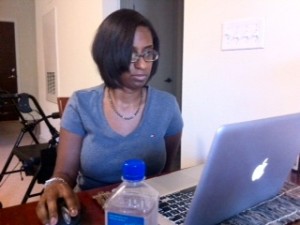 Nicole Lemelle is a writer, an activist, and a person living with Multiple Sclerosis (MS). She was diagnosed with multiple sclerosis in 2000 and lived relatively symptom free for years. In 2009 an exacerbation hospitalized her for three weeks. This event forced her to retire from her dream job at the age of 34 and find a new passion. She began writing and working within the MS community.
As an MS advocate she created the website My New Normals. She wants the website to educate those who do not understand MS, reassure people with similar plights and inspire everyone to seize command of their lives. The premise of the website is to highlight how normal keeps changing. Most importantly it deals with the good and the bad in a heartfelt truthful way.
Multiple Sclerosis continues to alter the terrain of her life. In just a few years she went from independently walking, working, and driving to depending on her dedicated husband and family for most of the above.
Nicole has earned a Bachelor of Science in Microbiology from Louisiana State University, a Bachelor of Science in Nursing from Louisiana State University Health Sciences Center, and a Cardiac Device Technology Certificate from the Arrhythmia Technologies Institute.
Click here to read all of Nicole's articles on MultipleSclerosis.net.