Patrick Leer
Last updated: November 2020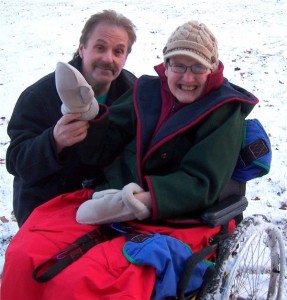 We are extremely saddened to say that on November 11, 2013, Patrick Leer passed away. Patrick was an essential member of the MultipleSclerosis.net community, providing unique insight and perspective as the primary caregiver to his wife, who has MS. Patrick authored many insightful articles that can be accessed here. Our contributors, Laura and Donna, each wrote a tribute to Patrick and his family.
Over a quarter century ago in the beginning of "living with MS as a family" there was nothing available about MS spouse caregiving. I would bundle up our toddler daughter and transfer Patti out of her wheelchair and into our car to drive to our local library where I poured over hardback volumes of the New England Journal of Medicine.
Late one night, after I had gotten everyone to bed, I sat down at a new toy - our first personal home computer. Before the dawn of the user friendly web I stumbled into a Prodigy bulletin board for MS where I left a note asking if anyone had any experience with caregiving.
A couple nights later, when I found a response, my life changed forever with the knowledge that I was not alone.
Everyone's MS is different but when it comes to caregiving the variables of living with MS as a family multiply exponentially.
With Patti admission to a long term care facility in 2004 I began Caregivingly Yours "Sharing the trial and error learned lessons of a MS spouse caregiver / carer about family, home care, and transition to the care facility era from 23 years of living with Multiple Sclerosis as a family ... a 'warts and all' picture of living with MS."
Spousal caregiving is a lot more than sacrifice; reportedly it reduces your life expectancy. Last year I was diagnosed with lung cancer Patti's MS dementia impairs her even remembering my diagnosis no matter how many times I tell her.
The care facility era doesn't end caregiving. Besides advocating for Patti I pick her up for outings 3 – 4 times a week making sure to prepare, dress, and transfer her to bed myself using a one person unassisted transfer from wheelchair to bed.
Today, Caregivingly Yours has close to 10,000 pageviews per month. I cannot help but remember my own tentative first step in the Internet to see if there were others like me. Knowing you are not alone is transcendent.
Click here to read all of Patrick's articles on MultipleSclerosis.net.