2022 MultipleSclerosis.net Awareness Month Giveaway!
Last updated: September 2023
The 2022 MS Awareness Month Giveaway is now closed. Thank you for your interest!
This was a special year for the MS community. This year we saw a Marvel superhero with MS emerge. We consider our community members superheroes every day so it seemed only fitting for our theme for this year's MS Awareness Month to be The Many Superheros of MS. This month we are focusing on the superheroes in the community, caregivers and care partners, community advocates, and of course sidekicks (because every good superhero needs a sidekick).
Speaking of superheroes, most of our giveaway items listed below were generously donated by small business owners supporting MS awareness. We want to give a big THANK YOU to these amazing people and companies for their kindness and support.
So for our 2022 MS Awareness Month Superhero Giveaway, we will be giving away the following to one lucky winner:
One custom-fitted ThermApparel Cooling Vest from ThermApparel
One custom hand-carved and handpainted walking stick (choose your own design) from AubreyGuynn
Two MS Awareness T-Shirts (sizes of your choosing) from SusanChabouti
A set of MS Awareness Month candles (white tea scent) from KatsCharityKandles
One MS Warrior 30oz insulated tumbler from KJsMugsAndTees
Marvel's Darkhawk Graphic Novel series (Volumes 1-5)
Intention Tremor (Advocate Written Book) by Tamara Kaye Sellman
Enjoying the Ride (Advocate Written Book) by Mitch Sturgeon
Managing MS: A Roadmap to Navigate Multiple Sclerosis (Advocate Written Book) by Debbie Petrina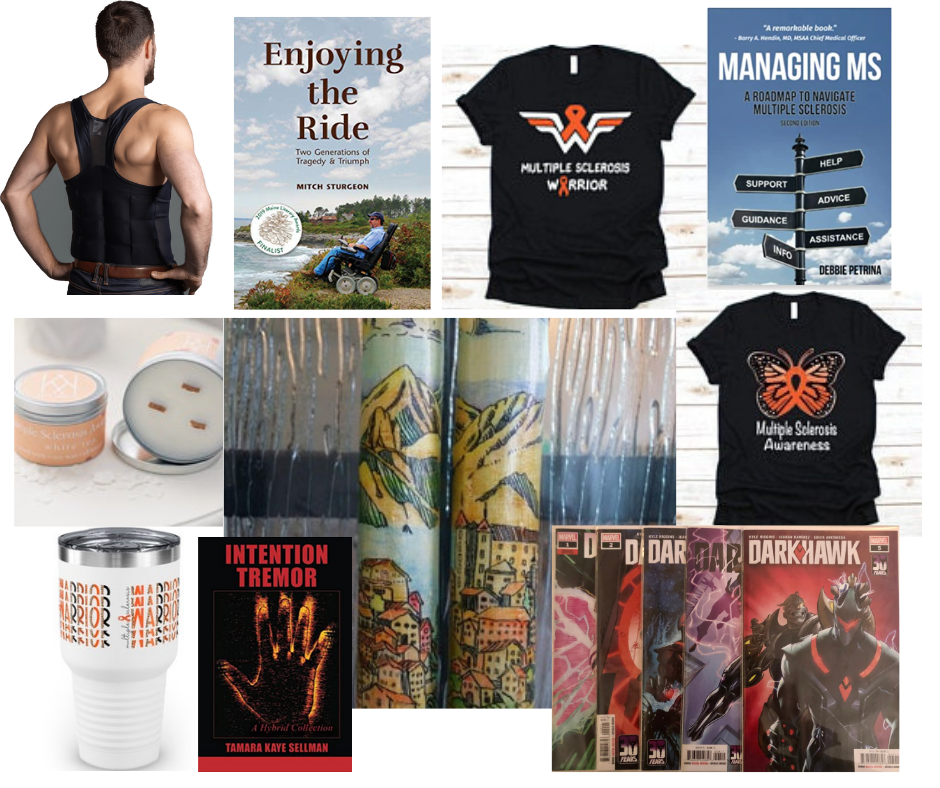 This article represents the opinions, thoughts, and experiences of the author; none of this content has been paid for by any advertiser. The MultipleSclerosis.net team does not recommend or endorse any products or treatments discussed herein. Learn more about how we maintain editorial integrity
here
.

Community Poll
What does advocacy mean to you as someone living with multiple sclerosis? Please select all that apply: