Finding Direction When Newly Diagnosed – MSAA's Newest Edition of The Motivator Available Now
The Multiple Sclerosis Association of America (MSAA) is excited to announce the latest edition of our magazine, The Motivator, is now available in print and digital versions! Featuring our cover story, "Finding Direction When Newly Diagnosed," this issue provides information and resources for those new to multiple sclerosis, as well as anyone affected by MS.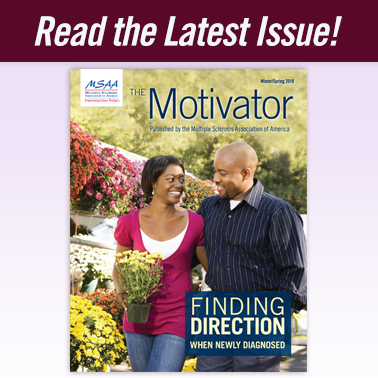 Many individuals who have been diagnosed with MS often talk about the confusion around their initial symptoms, and the long period of waiting for an answer. Once the diagnosis of MS is confirmed, this typically creates more confusion… and countless questions. The purpose of this issue's cover story is to explain the basics behind MS, as well as treatment options, details on some of the more challenging symptoms, employment issues, and government programs. At the end of the cover story, readers will find a list of resources for more information.
Although many readers of The Motivator may no longer be considered newly diagnosed, and much of the information may not be new to them, they may find that certain details are of help, including the employment or government program information, as well as the list of resources. Additionally, this article is a good reference for people to share with relatives and friends who may be unfamiliar with MS – and much of the information may help those relatives and friends to better understand the difficult challenges faced by individuals with MS.
Also featured in this new edition is our "Ask the Doctor" column with Dr. Jack Burks. Questions and comments included in this round of "Ask the Doctor" discuss disease-modifying therapies, balance issues, and other topics. Additionally, our President & CEO, Gina Ross Murdoch, reflects on her time as a half-marathon runner in the Disney World Marathon Weekend in January 2018; author Courtney Carver shares her inspiring journey with MS; and much more!
To order, download, or read your copy of The Motivator, please visit https://mymsaa.org/publications/motivator/winter-spring18/.
This article represents the opinions, thoughts, and experiences of the author; none of this content has been paid for by any advertiser. The MultipleSclerosis.net team does not recommend or endorse any products or treatments discussed herein. Learn more about how we maintain editorial integrity
here
.

Community Poll
How well do people around you understand MS?