My Health Insurance Guide
The Multiple Sclerosis Association of America (MSAA) is excited to announce the launch of a new website section dedicated exclusively to helping the MS community better understand and utilize health insurance. Titled My Health Insurance Guide, this comprehensive online resource center offers a wealth of easy-to-follow information about the Health Insurance Marketplace under the Affordable Care Act (ACA), Medicare, Medicare Advantage, and Medicaid.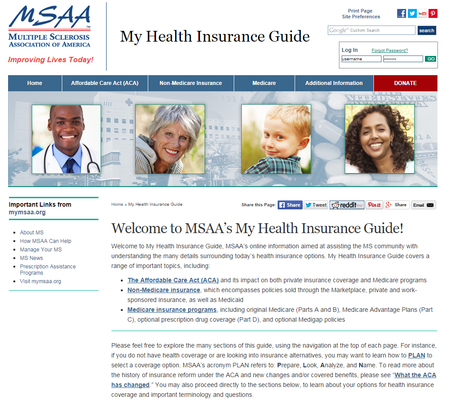 With the goal of taking complex information and breaking it down for easier understanding, My Health Insurance Guide includes a useful glossary of common insurance terms, helpful questions to ask and points to consider when looking at plan coverage, steps for appealing a denial, and archived webinars on the ACA and Medicare. Two new additions to the site also include a downloadable brochure: Medicare Planning and Multiple Sclerosis, and an on-demand video titled: "What You Need to Know About the Affordable Care Act."
With open enrollment for the Health Insurance Marketplace and Medicare coming soon, MSAA encourages you to visit My Health Insurance Guide or call (800) 532-7667, ext. 154 and speak to one of our Client Services Specialists. The more you know, the better prepared you will be to obtain the best healthcare possible and help stay on top of this complex and ever-changing disease.
The development of My Health Insurance Guide is supported by unrestricted educational grants from: Biogen Idec; Genentech; Genzyme, a Sanofi company; and Novartis Pharmaceuticals Corporation. The creation of the on-demand ACA video is made possible through support from Teva Neuroscience.
This article represents the opinions, thoughts, and experiences of the author; none of this content has been paid for by any advertiser. The MultipleSclerosis.net team does not recommend or endorse any products or treatments discussed herein. Learn more about how we maintain editorial integrity
here
.

Community Poll
Do you live with any comorbidities aside from MS?