My Interview With Dr. Terry Wahls On Paleo Principles, Functional Medicine And Adopting Healthy Behaviors
As a co-moderator of an active private MS Facebook group, I lend my voice by posting articles on the latest research, and sharing articles that I write, about living with MS. I am rewarded daily with the breadth of knowledge about nutrition and holistic interventions that our group members share with me. We have become a family, banding together to fight the daily battles with MS. I'd like to thank them for helping me prepare for this article.
Who is Dr. Terry Wahls?
On many occasions I've heard the name Terry Wahls mentioned in our group. When Dr. Wahls approached me about conducting an interview about her book and nutritional plan to treat chronic autoimmune disease, I said yes.
An interview about food and healthy eating
Dr. Terry Wahls, a clinical professor of medicine at the University of Iowa, also lives with secondary progressive MS. She was confined to a tilt-recline wheelchair for four years, and decided to change her prognosis by studying research and acquainting herself with functional medicine. Using her medical knowledge, she developed a way to use food as medicine instead of using pills and supplements.
The following is our interview.
What do you mean by saying you "beat" MS?
The word "beat" in your title, "The Wahls Protocol: How I Beat Progressive MS Using Paleo Principles and Functional Medicine" makes me uneasy. Symptoms may go into remission, but the underlying disease remains.  I wouldn't want to give anyone the impression that if they follow your advice, they will "beat" their disease. Can you explain what you mean by "beating" MS, why you titled the book this way, and how do you explain to readers that by following your plan they can "beat" their MS?
Restoring my mobility and feeling stronger
After four years in a tilt/recline wheelchair and 7 years of steady decline, my health and function are dramatically restored.  I can walk, bike, and even jog a mile and a half.  No chronic disease is cured – and I do not claim to be cured, but my health is excellent and I continue to get stronger each year as long as I follow the diet and lifestyle recommendations I outline in the book.  I have observed others beginning to have their health improved, and their need for medications decline across multiple health problems – diabetes, obesity, mental health issues, Parkinson's, and autoimmune issues – inflammatory bowel disease, multiple sclerosis, rheumatoid arthritis, lupus, skin disorders.
How long did it take you to regain your strength?
After being diagnosed with MS and deteriorating to the point of being dependent on a wheelchair, how long did it take you to regain your strength and ability to function on your own again?
I switched to Paleo eating in 2002 after 20 years as a vegetarian.  I continued to slowly decline.  I needed chemotherapy (Novantrone) and a tilt/recline wheelchair in 2003. In 2004, I began reading about the animal model research in MS models and other diseases with shrinking brains. I found studies using vitamins and supplements that had helped protect mice brains. I translated those to human-size dosing. The speed of the declined slowed. But I was still declining.
Wahls' SPMS was rapidly progressing
In 2007, I could not sit up in a regular chair for more than 10 minutes. I could walk short distances using two walking sticks. Otherwise, I needed a wheelchair. Severe fatigue exhausted me by 10 a.m. That is when I discovered electrical stimulation of the muscles and added that to my exercise regimen.
Learning about functional medicine
I also discovered The Institute for Functional Medicine and began taking their courses. Then I had a deeper understanding of what I could do to help my brain. After that I decided to research where the long list of vitamins and supplements I had come up with could be found in our food supply. I changed my diet to stress those nutrients. That diet is the Wahls Diet plans. I worked with physical therapists to train my muscles. I added daily meditation. But when I re-did my diet that is when I began to recover. Within 3 months I stopped taking Provigil because the fatigue was gone. At 6 months I could walk through the hospital without a cane. At 12 months I did an 18-mile bike tour with my family.
What is the Wahls Protocol?
Please explain what the Wahls Protocol is, and what the difference is between your diet and The Paleo Diet. Why do you feel your plan is better, and please compare and contrast the two.
Paleo diets stress what you can't eat, and generally do not provide guidance on how to maximize the nutrients for your brain.
Maximizing the nutrients for your brain
Furthermore, Dr. Jayson Calton analyzed modern diets (American Diabetic Association, American Heart Association, My Healthy Plate, Atkins, South Beach, Mediterranean, Practical Paleo and Primal Diets.) While the two Paleo diets were the most nutrient-dense diet, they still missed 40% of the Recommended Daily Allowance for vitamins, minerals and essential fats.
The Wahls Diet has been designed and analyzed to make sure it exceeded the RDA for the 31 key nutrients. This graph is the analysis of the Wahls Diet adjusted to have the same caloric intake, and then compared to the average intake for women age 50 to 70.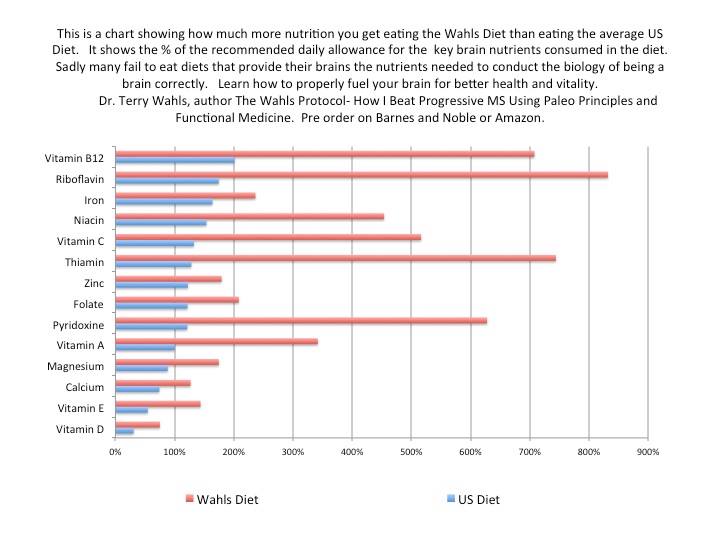 Are any published studies available?
Have you received approval from any regulating bodies regarding your diet? Are any published studies available?
It requires two multisite studies to obtain approval for dietary interventions. Those studies would cost $4 million dollars each to conduct. That is why no diet plan has completed the studies required to get FDA approval. That includes the My Health Plate (from the U.S. government), or the American Heart Association diet or The American Diabetic Association diet.
I do have our first paper out. 3 more are in the process of development.
No other author who is promoting a diet plan is also conducting the research, or doing a rigorous analysis of their dietary plan to confirm its nutritional density or make-up.
There are many people who trying to follow your plan but find it too difficult, and some can't eat organ meats. Are you planning on publishing anything on what supplements readers can take in lieu of eating organ meats? Are there any equivalents to it?
The book describes alternatives to organ meat.
Private consultations
Do you conduct private consultations via email?
I do not do consultations via email. I do not have a private clinic where I can see people. I do see veterans at the VA hospital. We are also developing a membership site where people can join to learn more deeply about diet, lifestyle and other environmental factors that the individual can control to improve their health (energy level, thinking ability, mood, motor function such as walking ability and hand use.) The membership is in a pilot phase now and should be released to the public by (approximately) September 2014.
Can the Wahls Protocol help with neuropathy?
Do you find there is a benefit for getting rid of foot and leg neuropathy, as well as leg weakness, by following your diet?
The diet and lifestyle interventions described in the book set the stage for better health of the nerves in the periphery as well as the brain. We have many reports of those with neuropathy from a wide variety of causes that have benefitted greatly.
Can the Wahls Protocol be vegan?
Can someone who is a vegan follow your diet?
Yes. We have options and guidance for those who choose to remain vegan and vegetarian. I discuss how, when done incorrectly, the vegan and vegetarian diet can worsen autoimmunity. Then I discuss how to address those potential issues either by resuming eating meat or adjusting the vegan/vegetarian diet.
Organic food
You suggest purchasing organic food, something that is a bit more expensive than purchasing non-organic food. Many people with MS are struggling financially due to health costs. Do all foods need to be organic, or are there some that can be non-organic in order to save money?
No. I discuss that you can do this without purchasing organic foods. The speed of recovery will be somewhat slower.
Stem cell therapy
Are you planning on looking at stem cell therapy?
I discuss this in the book. The stem cell therapy benefits will be temporary unless the root cause of why the autoimmune disease developed.
Advice for those who can't stick to the diet
Many people feel defeated after unsuccessfully following your diet, unable to fully follow it. What advice do you have for them?
This is typical for those who are dealing with addictions. Most of us have developed additions to sugar, gluten and casein and experience withdrawal that is physically and emotionally unpleasant. I treat this like addiction. Control the environment, get support and keep trying as best as one can.
MTHFR gene mutations
What do you know about MTHFR gene mutations? Because some people with the MTHFR can't eat some of the foods you recommend, are they still able to follow your diet?
We are all unique. I explain in the book – that the diet needs to be personalized to the person's health issues, size and gender and how to discuss this with their personal physician/medical team.
Clinicals trials for the Wahls Protocol
We know that you performed a small clinical trial on 20 people. While that is good, can you conduct a bigger trial using a larger MS population?
I keep writing grants. I can only do research that I receive funding in order to perform another trial. I have poured my own personal funds from my first book into the research program – to amplify what the Direct MS charity gave us to conduct large trials requires multi-year funding and millions of dollars.
I think contacting the National Multiple Sclerosis Society and pushing them to fund research focused on diet and lifestyle would be helpful.
Resources for readers
Please tell us about your website and what you make available to readers. Do you also have podcasts? 
I am developing membership sites to provide more information and coaching. I am also providing 30 QuickStart programs with Leanne Ely of SavingDinner.com that provide menus, recipes, shopping lists and coaching, telephone calls and a closed group for peer support. To learn about both programs, sign up for my newsletters at www.terrywahls.com.
Dr. Terry Wahls is a clinical professor of medicine at The University of Iowa where she teaches internal medicine residents, sees patients in a traumatic brain injury clinic, and conducts clinical trials. She is the author of "The Wahls Protocol: How I Beat Progressive MS Using Paleo Principles and Functional Medicine" and teaches the public and medical community about the healing power of intensive nutrition. You can find more information about her work at her website www.terrywahls.com and follow her on Twitter @TerryWahls and on Facebook at Terry Wahls, MD. 
Disclaimer: Please note that the views and opinions expressed in this article are those of Dr. Wahls and do not necessarily reflect the opinions of Cathy​ Chester or of MultipleSclerois.net. We recognize that the treatment and lifestyle needs for those with MS are unique to each individual, and while some people may find success with Dr. Wahls' suggestions, her recommendations may not be appropriate for ​everyone.
This article represents the opinions, thoughts, and experiences of the author; none of this content has been paid for by any advertiser. The MultipleSclerosis.net team does not recommend or endorse any products or treatments discussed herein. Learn more about how we maintain editorial integrity
here
.

Community Poll
Who can relate? "Just because I could do something last year, last month, last week or yesterday doesn't mean I can do it today. Also, it doesn't mean I can't."