Join MSAA at One of These Exciting New Programs for the MS Community
Throughout the year, the Multiple Sclerosis Association of America (MSAA) hosts a range of free educational programs designed to help individuals with MS and their families take a proactive approach in managing their MS and to remain engaged in the conversation about the disease.
We have some very exciting programs lined up in various cities all across the country. Here are just some of the topics and programs that we at MSAA are going to be bringing you this fall:
Learn about "Hot Topics in MS" from MS experts focusing on the latest news and research in the world of MS.
The MS Open Forum– this is your chance to bring all your MS-related questions to this informal and interactive discussion and audience Q&A led by MS experts.
MS Education Conferences are larger programs focused on specific topics of importance for individuals with MS and their families including a women-only summit, a "Family Matters" conference, and a Patient and Care Partners Day.
"The Day to Day Treatment of MS" includes a discussion on treatment adherence and MS relapse management led by healthcare professionals with expertise in MS.
"Swim for MS: The Benefits of Aquatic Exercise" is a presentation and discussion led by trained fitness professionals on how swimming and aquatic exercise can benefit individuals with MS
Check our Calendar of Events for more information and to register for one of these programs happening in your area!
Please note that this is just a few of our current programs and new topics and cities are constantly being added. So please sign up to be put on our mailing list so you don't miss out on events happening in your area and keep an eye on our Calendar of Events.
Check out MSAA's Calendar of Events for MS educational events across the country: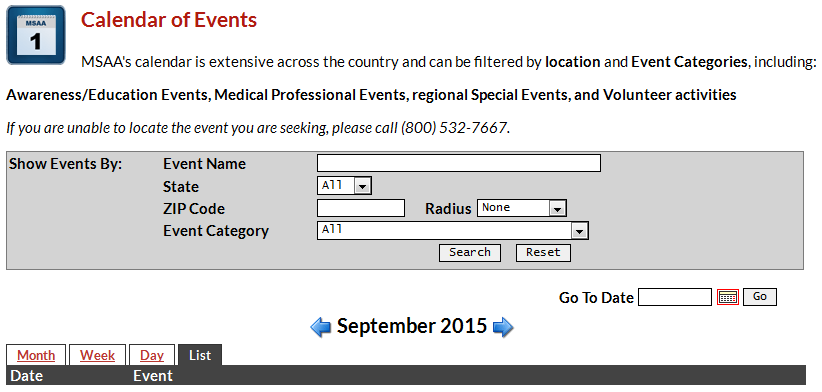 This article represents the opinions, thoughts, and experiences of the author; none of this content has been paid for by any advertiser. The MultipleSclerosis.net team does not recommend or endorse any products or treatments discussed herein. Learn more about how we maintain editorial integrity
here
.

Community Poll
How well do people around you understand MS?