MSAA Webinar: Living with MS as an LGBTQIA+ Person
Last updated: September 2022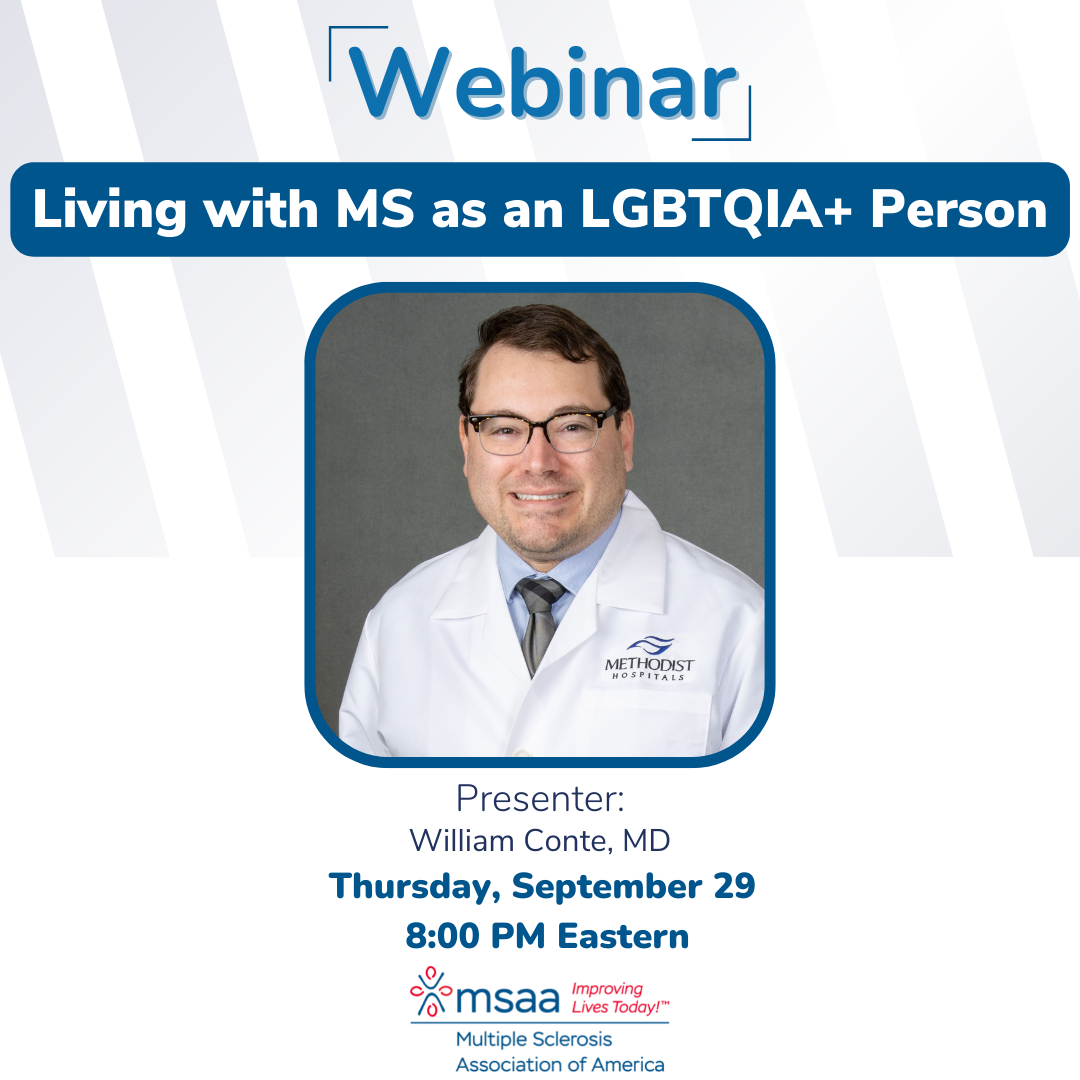 On September 29th, the Multiple Sclerosis Association of America (MSAA) is hosting a digital educational program dedicated to raising awareness and understanding about living with MS as an LGBTQIA+ person.
This informative session is presented by Dr. William Conte and will define common LGBTQIA+ terms, describe health disparities, and discuss topics such as hormone replacement therapy and factors that may influence disease-modifying therapy selection in people with MS who are part of the LGBTQIA+ community.
Addressing health disparities
Finding a diagnosis and treatment options for MS can be a confusing and often overwhelming process for any person to navigate. The LGBTQIA+ community can have additional health complications, medications, and medical insights that are important to address as they research and receive care. This program is in conjunction with MSAA's commitment to offer programs for the entire MS community, address health disparities, and provide helpful information and strategies to optimize health outcomes for especially vulnerable and minority populations.
When is the webinar?
This one-hour webinar takes place on Thursday, September 29 at 8:00 PM Eastern. To learn more and register for "Living with MS as an LGBTQIA+ Person," please visit this link.
Unable to attend this live webinar?
Don't worry! All MSAA digital educational programs are recorded and posted online in our MSi Video Library and on our YouTube channel. Please allow some time for archived videos to be posted.
About the presenter
Dr. Conte earned a BS degree in neurobiology from the University of Florida, graduating Summa Cum Laude. He graduated from medical school at Loyola University Chicago Stritch School of Medicine and went on to complete an adult Neurology residency at Loyola University Medical Center. He also completed a fellowship in Multiple Sclerosis (MS) and Neuroimmunology at The University of Chicago through a National MS Society Sylvia Lawry award. While at The University of Chicago, he earned a Master's degree in Public Health Sciences.
With a strong interest in clinical trials and research, he has been the principal or co-investigator on multiple clinical trials and investigator-initiated studies. He frequently lectures on various topics and presents research at national and international conferences. The MS Center at Methodist Hospitals, which Dr. Conte leads, is recognized as a "Partner in MS Care" by the National MS Society.
Register for "Living with MS as an LGBTQIA+ Person" here.
This article represents the opinions, thoughts, and experiences of the author; none of this content has been paid for by any advertiser. The MultipleSclerosis.net team does not recommend or endorse any products or treatments discussed herein. Learn more about how we maintain editorial integrity
here
.

Community Poll
Do you want a chance to win an illustration of your personal story?