MS Research Update 2015 Edition from MSAA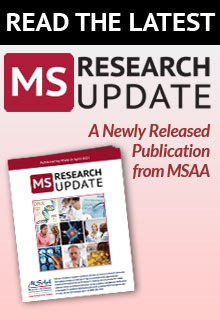 Keeping track of every MS-related study, trial, drug release, and other updates - and interpreting their clinical relevance to the MS community - can sometimes be stress-inducing. Fortunately, the Multiple Sclerosis Association of America (MSAA) gathers much of that data and summarizes its relevant findings into one place - the annual MS Research Update. We are pleased to announce that the 2015 edition of the MS Research Update publication is now available for you to read. While the vast scope of current MS research limits the amount of material that can be covered in this stand-alone annual issue, we always make sure to do our best to select the most pertinent studies from a wide range of sources.
Offering a comprehensive overview of MS research findings, highlights from this Research Update include:
Detailed information on FDA-approved disease-modifying therapies
Study results on many experimental treatments currently under investigation
Directions for future research in areas such as stem-cell research, biomarkers, genetic studies, and more
In addition to the exciting research aimed at relapsing forms of MS, several studies are also looking into the treatment of progressive forms of MS. To assist individuals interested in learning more, trials with progressive forms of MS have been highlighted in bold for quick identification.
Seeking only the most credible information available, this MS Research Update was written by Dr. Stephen Krieger and includes material by Margaret M. McCormick, RN, BSN, MSCN and Diana Schneider, PhD. It was thoroughly reviewed by Chief Medical Officer Dr. Jack Burks and MSAA staff. Please note: the authors, who are experts specializing in the field of MS, have reported on only the most recent study results available at the time of publication.
Because we believe patients have the right to be active, informed participants in their own healthcare and disease management, we invite all members of the MS community to check out the MS Research Update and to share it with their loved ones and care partners.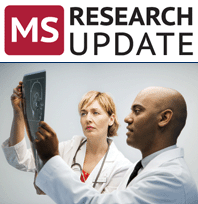 This article represents the opinions, thoughts, and experiences of the author; none of this content has been paid for by any advertiser. The MultipleSclerosis.net team does not recommend or endorse any products or treatments discussed herein. Learn more about how we maintain editorial integrity
here
.

Community Poll
How well do people around you understand MS?