All Catheters are not Created Equal
Thanks to my neurogenic bladder, caused by a disruption of signals in my spine thanks to multiple sclerosis lesions, I have difficulty voiding my bladder and use intermittent catheterization. I've been getting my catheters for a number of years through the same supplier. Each month they call and verify what I need and they always follow up with the appropriate supplies delivered by UPS. They always ask the same question, – 'are you receiving any home health nursing care?' and normally my answer is no.
A change in my catheter supplier
After my fight with the COVID-19 virus in the hospital, that changed. I was getting weekly checks by a home health care nurse and twice-weekly physical therapy sessions. Due to some strange archaic quirk in the Medicare rules, when you have home health care, that agency is in charge of all of your supplies. That includes items such as my catheters.
One size does not fit all
I was forewarned by my home health care nurse, yet it was still a moment of shock and then great amusement when the recent catheter shipment arrived on my doorstep. The nurse had apologized in advance that their supplier only offered one type of catheter, which wasn't the one I have used for years. But not only wasn't it the one I've used forever; it was a unisex catheter. I received a 'one size fits all' supply of 180 catheters.
Common bladder issues
Having to do intermittent self-catheterization is not that unusual for people with MS. Bowel and bladder problems are very common. If you suffer with an overactive or nonresponsive bladder, you are not alone. You can go to MultipleSclerosis.net and do a quick search for 'bladder' and return links to numerous articles covering everything from bladder infections, embarrassing moments with a misbehaving bladder, and options for treating a wayward bladder. My fellow MS experts here have some great advice on dealing with bladder issues.
Spot the difference?
Men are obviously plumbed differently than women, and as such, their catheters are much, much longer than those needed by women. I offer the following photo of Exhibit A and B so you might see the difference for yourself, but it should be obvious. The difference is 6 inches vs. 18 inches of flexible tubing.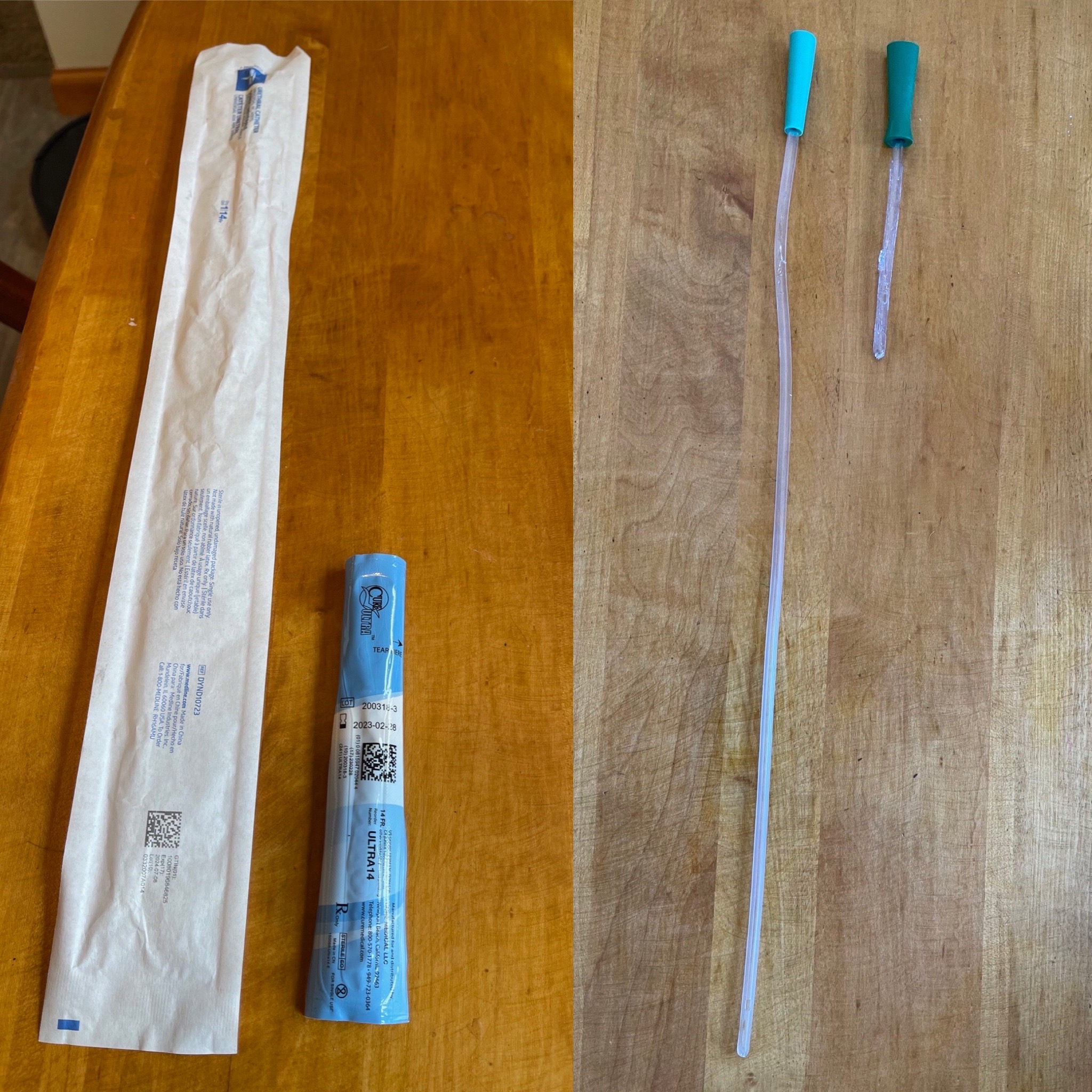 So, what did I end up doing?
It's ok to laugh at how ridiculous this appears, while not mocking what men must go through to reach their bladder with a catheter. Heaven knows I have laughed at this more than once. I'm sure you are left wondering how on earth I resolved this problem - it was simple. I continued to use the few female catheters I had left from my regular supplier, and carefully reused them by rinsing them thoroughly after each use. I didn't even attempt to use the one size fits all catheter, but I guess I could have taken scissors and cut them to a more appropriate length.
Back to business
Thankfully, my home health care days are finished and my normal supplier is back. But I propose that when there is a discussion of the overhaul of Medicare rules, the rule that required me to get this case of unisex catheters instead of using my normal supplier, should be included in the conversation.
Wishing you well,
Laura
This article represents the opinions, thoughts, and experiences of the author; none of this content has been paid for by any advertiser. The MultipleSclerosis.net team does not recommend or endorse any products or treatments discussed herein. Learn more about how we maintain editorial integrity
here
.

Community Poll
What does advocacy mean to you as someone living with multiple sclerosis? Please select all that apply: