Check Out My MS Manager's Mini Makeover!
Keeping track of your health with the use of a mobile phone app is increasingly popular among members of the MS community. Join the thousands of people already using the Multiple Sclerosis Association of America's (MSAA)free, easy-to-use mobile app, My MS Manager™ - now with new features!
Updates to the My MS Manager Mobile Phone App
The newly redesigned home screen includes user-friendly navigation, making it easier for users to effectively manage the ever-changing course of their MS.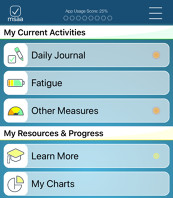 In addition to the updated home screen, My MS Manager™ also features an expanded treatments section allowing you to track and store more medication information with ease. Scroll, search, or type in any treatment you may be using to have a comprehensive list — all in one location.
Monitor and track your symptoms
Check out the robust treatments listing and download this convenient tool to track and store important health information. My MS Manager™ includes several popular features and scales that help to monitor how fatigue affects daily life, patterns in bladder health, and more — all in colorful charts that make it easier to spot trends to share with your healthcare team.
Other app features
Other HIPAA-compliant features include optional private reminder settings, links to further educational materials from MSAA, and – exclusive to My MS Manager™ – the ability to connect to physicians and other clinicians on your care team via the app to share your progress and reports securely and as needed.
To download the My MS Manager™ mobile phone app, please visit MSAA's website at mymsaa.org/mobile.
This article represents the opinions, thoughts, and experiences of the author; none of this content has been paid for by any advertiser. The MultipleSclerosis.net team does not recommend or endorse any products or treatments discussed herein. Learn more about how we maintain editorial integrity
here
.

Community Poll
For trips, which means of travel do you prefer and why?