MSAA to Present a Virtual Art Showcase Event Featuring Artists with MS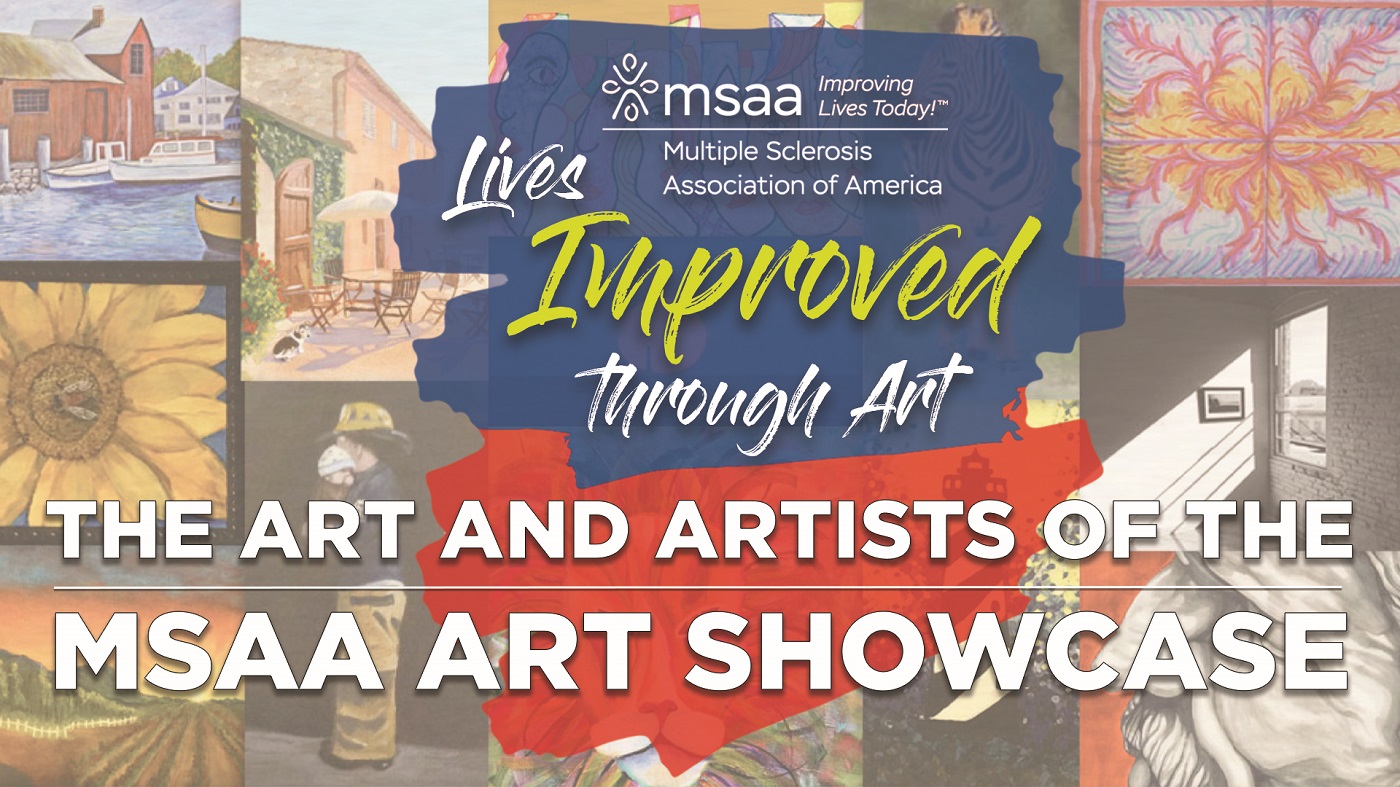 Each year, the Multiple Sclerosis Association of America's (MSAA) Art Showcase celebrates beautiful artwork created by people with MS.
Have you ever wondered about the artistic process of MSAA's Art Showcase participants – what inspires them to create, what are some of their favorite techniques, and how did they learn about the MSAA Art Showcase?
Meet the artists!
On Tuesday, December 7, 2021, join MSAA for a deep dive into the Art Showcase and five of our incredible participants at our virtual event, "Lives Improved Through Art – The Art and the Artists of the MSAA Art Showcase."
Host and art enthusiast, Joe Caliva, will take an intimate look at a handful of Art Showcase artists and learn their personal stories of how art has made an impact on their MS journey. Learn more below about the five artists you'll hear from in this virtual event...
Ted Alt
"I am 70 years old, retired, and I worked for 41 years in banking and investment banking, 14 years with Bank of America. I graduated from Brown University in 1971. MBA in Finance from the University of Chicago Business School, 1974 and from the London School of Economics, 1974.
I started the private equity finance program at Bank of America, managed it and led the largest leveraged buyout in history (RJR Nabisco.) I retired 10 years ago and started painting with watercolors one year ago. I had never taken a studio art class until nine months ago. I did three months in watercolors and started oil painting six months ago."
Hope Angel
"As an emerging artist, I strive to live outside the mainstream. My art is a product of my imagination. Haunting. Abstract. Surreal. My paintings say it all without saying a single word. Water speaks to and inspires me. Something about it draws people in; it has a sort of energy that has a mysterious hold on us. This earthy element draws the attention of the viewer into the texture and vision of the painting itself. Water is life.
Altering how we view it is but one way to challenge the unwritten rules, beliefs, and fears that shape our world and behaviors within. Its willingness for transformation makes it the perfect medium for soulful exploration. My goal is to inspire those who see my art to take an imaginary trip with me and explore the world from a unique and colorful perspective."
Giovanni Arroyo
"I am a Puerto Rican photographer, born and raised in Chicago. I have practiced photography for over 30 years. I shoot digital, aerial, and film in all formats. I regularly instruct photography classes in the western suburbs of Illinois."
Learn more about Giovanni here.
Omayra Rivera-Filardi
"In 2010, I was diagnosed with multiple sclerosis, my second autoimmune illness while 6 months pregnant. As an artist and visual arts teacher, I immediately noticed that I could not see the color red or the saturation of color from my right eye. I foolishly thought that I was having a relapse from the myasthenia gravis; it wasn't. At that time, not only was my right eye affected but I also had little control of my right hand which had small tremor like movements. With treatment my vision was restored but illustrating again was a tougher journey.
By re-directing my focus, I learned to live in the now. With time, I pushed myself to create art on a higher technical level, yet with deeper meaning for me. I have had relapses since then and they have not been painless but each time I learn and grow from them. Art will always be my guiding light through the darkness that often fills my vision when I relapse. It enables me to cleanse myself spiritually from the dark thoughts and emotions that are often overlooked by people with MS."
Trinity Williams
"My artwork reflects the head cornerstone of intersectionality. Trinity 'MS.HB' Williams – I am a Black Afro-Latina woman, part of the LBGTQ community, MS warrior, and a single mom of 3 boys. I grew up between NYC and New Orleans. Influences of these places established my hunger for creativity. My art trek blossomed in 2011 when the opportunity to work at Project Row Houses presented itself. 
PRH backed me to curate my first art event, titled, 'Mythos by Bards.' I taught a creative sign language art class at PRH and Parker Elementary's after school program. In 2018, I was diagnosed with a chronic illness, multiple sclerosis. I now use the therapy of creating Art to heal. I participated in Art League's Healing Art Program. I am also a recent graduate of Artist Inc Professional Development Class 2020. I have shown and sold work at the 2019 & 2020 Art League Gala and Marty."
Learn more about Trinity here.
Join us for the virtual showcase!
If you want to enjoy the virtual program with an extra special treat, choose the premium ticket item when purchasing. Whether you are a beer or wine drinker, or just love some good snacks, we have great options for you. 
Tickets must be purchased by 12/1/21 in order for baskets to arrive by event day. For tickets purchased after 12/1/21, baskets are not guaranteed to be delivered by the day of the virtual event.
MSAA invites members of the MS community to use the code FAMILY when purchasing tickets to receive a special discount on a general admission ticket or a premium ticket. To purchase tickets for the virtual event, please visit: https://e.givesmart.com/events/mrj/
This article represents the opinions, thoughts, and experiences of the author; none of this content has been paid for by any advertiser. The MultipleSclerosis.net team does not recommend or endorse any products or treatments discussed herein. Learn more about how we maintain editorial integrity
here
.

Community Poll
For trips, which means of travel do you prefer and why?