Find Out What's New in MS Research from MSAA
Wondering what's new in the world of MS research? Look no further – MSAA is proud to announce the 2019 edition of our annual MS Research Update. The MS Research Update provides a comprehensive overview of the study results on many of the approved and experimental disease-modifying therapies for multiple sclerosis. In addition to medications, the update also highlights new directions in research – including diet, Vitamin D, biotin, gut microbiome, stem cells, genetics, and biomarkers.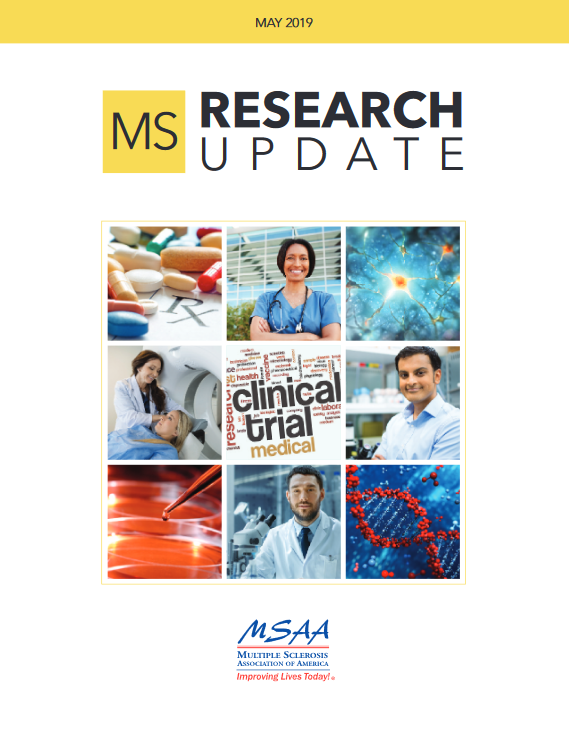 From the 2019 MS Research Update
In this excerpt from the MS Research Update, the effects of a person's diet on their ability to walk is analyzed:
"One recent analysis involving 277 people with MS found that the better you eat, the better you think – and move. In this study, the participants had an average age of 48.2 years and an average body mass index (BMI) of 28.2, which is in the overweight range. More than three-quarters were women. All participants completed the MS Performance Test (MSPT) assessment of neurologic function and a questionnaire on how often they ate 153 different food items. Investigators used the Healthy Eating Index 2010, a measure of dietary quality, to assign each participant a score from 0 (poorest quality diet) to 100 (highest quality diet). Based on those scores, researchers placed people into four quartiles, or groups, with one group composed of people with the highest quality diets, one made up of people with the worst-quality diets, and the other two groups for people with intermediate degrees of lower- or higher-quality diets. Next, the researchers drew on the MSPT results to see how performance in various aspects of neurologic function differed from group to group.

The analysis found that people in the highest quartile of dietary quality had significantly faster cognitive processing speeds and 25-foot walking speeds than those in the lowest quartile, and marginally faster manual dexterity speeds. They also were at significantly lower risk of moderate disability. The study's authors concluded, 'High dietary quality was associated with lesser disease severity using measures of disability, mobility, and cognitive function.' They added that ongoing studies would be important to determine if high-quality diets are associated with slower rates of disease and disability progression." Fitzgerald K, et al. ECTRIMS 2018.
More about the 2019 MS Research Update
If you would like to read more from the 2019 MS Research Update, please visit our website here. Please note: due to timing of the national and international MS conferences, study data from 2019 conferences generally could not be included in the Research Update. Information in this publication includes data presented at 2018 conferences, as well as important updates that occurred in early 2019.
This article represents the opinions, thoughts, and experiences of the author; none of this content has been paid for by any advertiser. The MultipleSclerosis.net team does not recommend or endorse any products or treatments discussed herein. Learn more about how we maintain editorial integrity
here
.

Community Poll
Have you ever tried acupuncture to help alleviate symptoms?