The Event That Changed My Life Forever
My name is Carol Norris, I have MS. So many people are affected by MS in so many different ways. Whether it's the person who suffers from the disease, to the children who are affected due to a parent suffering from MS, to the caregivers who care for those who have MS, we each suffer in different ways and have different perspectives. My youngest Daughter, Tina, who is now 20 years old, is one such person. Below I am sharing a story she wrote and she would like to share about how she's been affected by my,(her Mom) having MS.
The Event That Changed My Life Forever by Tina Norris
It will be ten years ago in February. Ten years ago my family's life drastically changed. My Mother, Carol, was diagnosed with MS (Multiple Sclerosis). I was only nine years old when this happened, but I remember everything from the day they sat me, and my then eleven year old sister, down and tried to explain to us what was going on.
It was a Sunday morning, one that started out like any other. We all got up and went to church, as we always did. After Mass my parents told my sister and I to head down to the basement. We did, and they followed. They sat us down in a back room area of the church, and it was silent. Being only nine years old, it was still easy to see that something was not right. I remember my mother's friend saying, "Alright girls, your mother has something very important she needs to tell you." Then my mom came forward, and told us she had gone to the doctor, and they told her she had a disease called Multiple Sclerosis. It was a disease that none of us were familiar with. Being nine years old, I knew it wasn't a good thing, but because I didn't know what it meant, I didn't know how to feel. I remember looking at my sister, she was crying and everyone was focused on her. I just sat there… not knowing what to do. The final words of that afternoon were, "none of us know what to do, but we will all get through this as a family."
Growing up with a parent with disabilities definitely has its challenges. Dealing with all the doctors and different specialists, was one of the first major things we had to deal with, and as the MS progressed and got worse, the changes we had to make as a family got more extreme. We had to change how we lived in many ways. We were looking for a new house at the time and for most people it wouldn't be a big deal, they just get what they like and can afford. But we now had to find a house we liked, a house we could afford, and a house that will work for my mom in the future.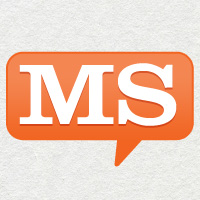 Multiple Sclerosis is a disease that can cause loss of balance, impaired vision and hearing, fatigue, muscle weakness and, in some, paralysis. Even simple everyday living skills become increasingly difficult, so when looking for the house we had to be sure we could find one with a first floor bedroom, bathroom, and kitchen area; so when the MS got to the point where my mom could no longer do the stairs, we would be in a house that she could still live in and stay as active as possible in. Part of living with it was dealing with the changes, knowing and learning to except that my mom would have to take a nap every afternoon, and would have to be picked up by the doors of stores when we go grocery shopping so that she didn't have to hurt herself trying to walk more than she physically could. The biggest change we've had to deal with in living with it is when it came to the point that the MS got bad enough that my mom had to get a Power Chair for in the house and a Scooter for when she wanted to be mobile outside. Seeing a parent in a Mobile Chair is really hard. It's also the newest and the biggest thing that's happened since the day she told us she had MS.
I don't want to say that living with a parent with MS changed me, because I was way too young when it happened to even try to figure out who I was going to be as a person when I grew up. But I will go as far as to say that growing up with a mother who has MS has probably made me a different person than I would have been if I had grown up with two healthy parents. It has also made me different in the way that I feel the need to go out and help, or at least offer my help to others who might need someone to talk to. Especially if they are going through something like this with a parent or other loved one getting hurt or being sick. I also feel like having to deal with something like this at such a young age, made me a stronger of a person. It taught me to deal with things, to take whatever comes at you and just try to make the most of it. In the past couple years, I decided to get out and start doing something that may be able to help the people and the families of the people who suffer with MS all over the world, I've started doing this by fundraising and getting out there and doing the MS Walks. Every spring there are MS Walks. My family and close friends get together to make up a team, and we raise money that goes to research, that may help cure MS someday, and to help families who are struggling with Multiple Sclerosis today.
The past ten years has been a rollercoaster of ups and downs, and there are bound to be more of them. Someone once asked me, "If you could change it, would you?" Without even thinking about it, I said "no." I still think about it off and on, but every time I do, my answer is still no. I may wish it never happened to my mom, because watching a parent hurting is no easy task, but I would never want to change it because of how it affected me. I feel like I am a better person because of it. I feel as though I am more responsible because of it. It has opened my heart and my life to so many new opportunities.
This article represents the opinions, thoughts, and experiences of the author; none of this content has been paid for by any advertiser. The MultipleSclerosis.net team does not recommend or endorse any products or treatments discussed herein. Learn more about how we maintain editorial integrity
here
.

Community Poll
What does advocacy mean to you as someone living with multiple sclerosis? Please select all that apply: