Living alone and being alone are very different
I never thought of myself as being that creative of an artist but this is one thing I did take the time to learn and it reigns in the depression of having MS and living alone. I love to work with things people generally just throw away, wood happens to be one of them. I found this tree that needed someone to help remember how important a tree can be, both in life and a new life. I also have a number of cats and two dogs personally trained as service and protection dogs. You'll always find something that needs you, no matter what others think or think they understand.
This is what I do to handle the stress of having MS, it will never take my desire to create.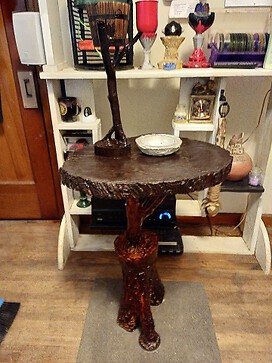 This article represents the opinions, thoughts, and experiences of the author; none of this content has been paid for by any advertiser. The MultipleSclerosis.net team does not recommend or endorse any products or treatments discussed herein. Learn more about how we maintain editorial integrity
here
.

Community Poll
How well do people around you understand MS?