Equine Therapeutic Riding: A Horse Lovers' Fantasy Come True
Last updated: January 2022
As someone with a high level of disability, I floundered for years trying different adaptive sports and activities desperately attempting to find something that gave me joy. Before my MS poltergeist moved in (diagnosis), I experienced exhilaration on a daily basis. Sorry, yoga, you just don't meet my adrenaline junkie needs, although you are helpful for my pain and spasticity. I obsessed over what I could do.
Then one day I had an epiphany!
How could equine therapy help my MS?
Prior to MS, I was an equestrian, starting at the age of six. I thought MAYBE horseback riding could be a possible activity since it didn't require as much physical and neurological output for me. Also, I had heard how incredibly rehabilitative riding can be for regenerating the walking chain (a big challenge of mine).
The horse's walking gait is very similar in motion to that of a human's walk.1 In other words, when on horseback the neurological feedback to the brain makes you feel as though you are actually walking. Being in a wheelchair or mobility scooter nearly full time, I think about walking. A LOT.
Entering the world of equine therapy
It was winter 2020 when we showed up unexpectedly at Healing Reins Therapeutic Riding Center in Bend, Oregon. Gazing across the grassy fields with white fencing on either side while driving down the bumpy road put an immediate smile on my face. A bazillion butterflies twittered in my belly with eager anticipation. The waft of manure through the car window made me feel like I'd arrived 'home'.
We wandered with inquisitive eyes into the barn on my wheelchair. Immediately the staff swarmed us with warm, welcoming smiles. We were taken on a tour through the barn, outdoor grounds, and indoor arena.
How does it work?
I was very impressed how everything was set up for various disabilities: a wheelchair ramp/mounting platform, a ceiling hoist for transferring, helmets for all sizes of heads, different styles of saddles, and an enclosed viewing room among other amenities. Trained and dedicated volunteers were everywhere we turned.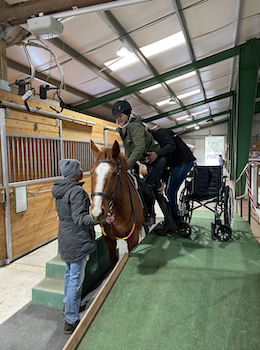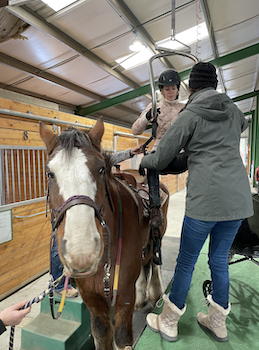 Equine Therapeutic Horsemanship and Therapy is a specialized program, often set up under the parameters of an organization called PATH International. The facilities and instructors undergo in-depth training and certification on how to provide safe and effective rehabilitative services.
Participants are taught to work with their horses and have a positive well-being experience. One can learn to ride either English, Western or bareback. It doesn't matter what sort of disability or challenge someone has; they make it happen. Individuals have a range of cognitive, physical, or neurological disabilities, emotional issues/PTSD, various types of illnesses, etc...
No experience necessary
It's not necessary to know anything about horses, nor riding, to partake. Understandably horses can be quite intimidating for some. However, trainers are skilled in how to get riders on a horse. There is an instructor and up to three volunteers that look after each rider. One on each side holding the rider's thigh, and the third leading the horse. The hope is to simply sit and let the body rock gently to and fro with the horses' gait, and soak up the delight.
Finding joy again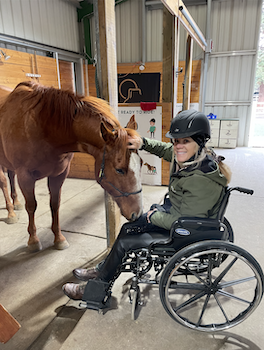 I have a lot of anxiety about bladder and bowel issues, however, the utter pleasure of being on a horse overshadows those fears. When the MS poltergeist took over, my life became very isolated overnight. Being at the barn provides me with a fantastic social environment. Equestrian facilities seem to attract a lot of kind-hearted and sensitive souls, which I appreciate very much.
The first time I rode as a pwMS (person with MS), it made me squeal with joy and giggle uncontrollably. I even burst into happy tears. The serotonin rush from being on a horse is astronomical for me!
How to find an approved facility
If this is something that piques your interest, a quick online search for PATH International (and other certified organizations) will provide information of approved facilities across the USA, Canada, and globally. I needed a physician's letter of authorization before I was able to ride, which may be the case with others. If anyone would like to reach out directly to me, I would be happy to answer any inquiries.
This article represents the opinions, thoughts, and experiences of the author; none of this content has been paid for by any advertiser. The MultipleSclerosis.net team does not recommend or endorse any products or treatments discussed herein. Learn more about how we maintain editorial integrity
here
.

Community Poll
Have any of the following helped to reduce your pain? Select all that apply.