It's In My Genes, I Guess
Last updated: February 2023
No, I'm not talking about having multiple sclerosis passed genetically. Although we know that some people are more genetically predisposed to contracting MS than other people. There is a different type of gene connection in my lineage – my mother's sister Zelpha (we called her Aunt Zep) also had multiple sclerosis.
It was a different time
She was diagnosed in her twenties, at a time when she was told to not talk about having MS because her doctor was sure she would be fired from her job. Keep in mind that she was born in 1916, over 100 years ago and it was a different time for people with chronic illness, and especially for women.
She eventually went to work at a local federal government installation, which coincidentally was the same place my father worked. He told stories that people often thought Aunt Zep was a bit tipsy from a drink or two over lunch, because of the way she would often stagger down the hallways. Walking a straight line was a skill she lost when she was young. My straight-line walking resembles her swagger and stagger more and more.
She could no longer keep it a secret
Aunt Zep stayed quiet for a few decades about her MS until she could no longer keep it a secret and then something changed – she became an advocate for MS. She got involved with the local NMSS chapter and she spent a lot of time helping other people who were newly diagnosed.
This was at a time when there were no disease modifying therapies and everyone with the diagnosis was left facing a pretty certain future in a wheelchair. She was no exception, but that didn't stop her. I often think of Aunt Zep and her path with MS – which eventually did leave her in a wheelchair and dependent on so many to help her with daily activities. But she never surrendered and she always had time for others and sharing her advice on living with MS and life in general.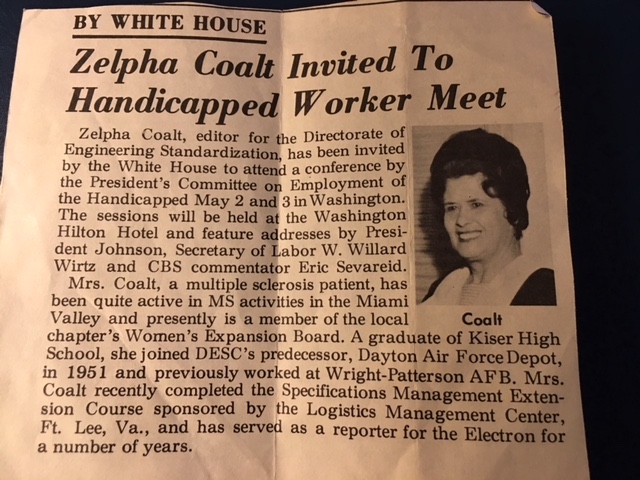 Invited to the White House
Aunt Zep has been gone for over 20 years but her memory stays close with me and recently the mailman brought me a lovely reminder. My cousin Jaynie was sorting through her mother's papers and found a newspaper clipping from Aunt Zep's MS activist days. The story is brief and I wish I had more of the details but the bottom line was she was invited to the White House to attend a meeting for handicapped people- yes that is what they called it back then. The conference was on The President's Committee on the Employment of the Handicapped, and featured talks by Lyndon Johnson, US President from 1963-1969, and CBS commentator Eric Sevareid. I can only imagine that her excitement at getting to attend this conference wasn't much different than what I feel each time I am in DC for my own form of MS advocacy work.
She paved the way
It was a different time for my aunt than it is for me and my life with MS is better because she and so many others paved the way by being outspoken advocates. Even though she is no longer with us, I would like to think a part of her compassion and knowledge about MS was passed on to me and that is part of what keeps me pushing to help and find answers for us all.
Wishing you well,
Laura
This article represents the opinions, thoughts, and experiences of the author; none of this content has been paid for by any advertiser. The MultipleSclerosis.net team does not recommend or endorse any products or treatments discussed herein. Learn more about how we maintain editorial integrity
here
.

Community Poll
Do you use any of the following assistive devices?